A Tribute To Our Father
---

Dear Educators, March 30th, 2003

During the last twenty years, many of you have heard me speak about teaching reading. During these talks or training sessions, I have told stories about my father, Major Walter E. Cupp. My dad has been an inspiration to my sister, Ginger Douglass, and me, as well as hundreds of others. He died on March 22, 2003. Ginger and I would like this April Newsletter to be a tribute to this wonderful man.

Daddy was very ill during November and December 2002. On January 1, 2003, he started writing his autobiography, and he finished his book on March 19. He died three days later. At his Memorial Service on Monday, March 24, the minister shared his Words of Wisdom from his autobiography. I would like to share the first two chapters of his book with you.

Daddy's book has twenty illustrations of his favorite stories. Elvin Hernandez made these illustrations. Elvin also illustrated the ThinkerBox™ Books. You should have been there when twenty-two-year-old Elvin sat on the floor in my father's den (long hair flowing). Ninety-year-old Daddy told story after story, and Elvin illustrated. Daddy laughed and laughed. Daddy's memory might not have been great on what happened yesterday, but when he talked about chasing the milk wagon at fifteen, he could give you every detail.

Sincerely,
Cindy Cupp

---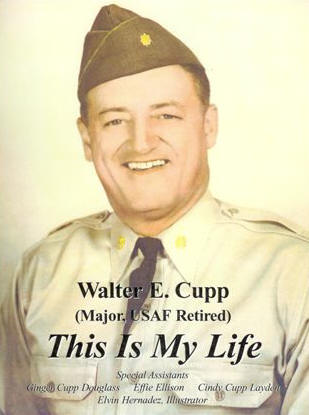 Dedication
This book is dedicated to my grandsons, Jeff, Tim, and Walt, and to my Eliza and all the future generations, in hopes my experiences will help them find their own way to happiness and success in their lives.
---
Table of Contents
---
| | | |
| --- | --- | --- |
| Chapter | Dates | Title |
| 1 | 1912-1925 | The Years I Don't Remember |
| 2 | 1926-1930 | My Farming and Motorcycle Days |
| 3 | 1931-1935 | The Beginning of My Military Career |
| 4 | 1935-1939 | Looking for Work and Finding the World |
| 5 | 1939-1942 | Becoming and Officer and Maybe a Gentleman |
| 6 | 1943 | New Guinea |
| 7 | 1944-1969 | Eva Mae Smith Cupp |
| 8 | 1970-1983 | Janie Mercer Robbins Cupp |
| 9 | 1984 → | Ninety and Still Going |
| Appendix A | | Letters from Family and Friends |
---

Chapter One

1912 – 1925
The Years I Don't Remember

I begin this autobiography on January 1, 2003. I am 90 years old and living in Savannah, Georgia. I've enjoyed a wonderful life. My health has been an issue over the years, but I have never let it slow me down. During the last two months, I have found out I have heart problems, and we are working to get me back on my feet. For the first time in my life, I can't go and do, as I want to. I have some free time now and with the encouragement of family and friends, I have decided to write my autobiography. In my own words, This Is My Life.

I will end each chapter with a few Words of Wisdom. These words of advice are not ones I have ever put on paper for anyone before. They are words that I have lived by. What is the old saying? It is not what I say that really tells about me, but what I do.

I don't know a lot about my mother and father. According to Alvin L. Anderson in a genealogy of the Anderson Family, my family tree can be followed back to 1838 when two immigrant brothers, John and Frederick Anderson emigrated from Oetisheim, Germany to northern Pennsylvania.

Alvin Anderson writes about my grandfather, James Fred Cupp. James Fred Cupp, second child of George and Wilhelmina (Anderson) Cupp, was born February 7, 1858, and died in 1948. He married Christine Yoxheimer, who was born in 1862 and died in 1946. Eric Cupp, my father, was their second son born in 1887 and died in 1933. Eric married Emma Pauling, my mother. I had one brother, Ralph Cupp born in 1910. He is now dead. I was born on August 16, 1912.

I am on the right.
This picture was made right before we were sent to the orphanage.

My recollections begin when I was six and my brother, Ralph, was eight. The year was 1918, and our mother died from the flu epidemic. We were sent to live in the Loysville Pennsylvania Orphan's Home. We didn't like the conditions at the orphanage; therefore, we packed our little bags and took off on the second or third day we were there.

This period from 1918 until 1925 is still vague to me. Looking back on these years, my brother and I could not remember where we were or how we lived. Later on in life, my brother and I returned to the area of the orphanage and knocked on doors trying to find someone that might have remembered two little runaway kids. We could never find any information about these missing seven years.

I am the cute one on the left.



The pictures on the opposite page are the only ones I have from my childhood. You can see me with my brother, Ralph. I'm the one on the bicycle. We were little kids in the first pictures, and then the next pictures show me as a teenager. I don't have any pictures from those missing seven years of my life.

I remember meeting my father one time. He was a chef in a restaurant in Pennsylvania. When he died in 1933, someone called and told me. He was not part of my life. I don't remember anything about my mother. I do remember we were sent to the orphanage soon after her death. My father had brothers and sisters and both my grandparents on my father's side were alive when my brother and I were sent to the orphanage. I don't remember any of them except my Aunt Mame.

World War I was ending in 1918. This might have had something to do with why we were not taken in by family members. I really don't know. The only thing I do know is my brother and I were basically on our own after we left the orphanage when I was six and he was eight.
Words of Wisdom I am on the left.

To end this chapter, I want my future generations to appreciate the homes and family they do have. No family is perfect. No family is exactly as it appears to be or exactly like all members would like for it to be. You should consider yourself lucky to have parents and others that love you and support you.

If you don't think you are getting from your family what you need or want, do something about it. You are given one life to live; live it to the fullest. When you are 90 years old, you will not want to look back and think of all the things you wish you had done. No excuses.

Take responsibility for yourself and your actions at a young age and you will benefit from your successes and your failures the rest of your life. No one owes you anything. You need to earn respect.


---

Chapter Two

1926 – 1930
My Farming and Motorcycle Days

In 1926, I somehow had found a place to call home. A man named, William Steiger lived on a dairy farm and pasteurized the milk. He made individual deliveries to homes in a horse-drawn wagon. During this period of time, I lost contact with my brother.

I am on the left. The lady is my Aunt Mame.
My brother, Ralph, is on the right.

My job on the Steiger farm was to herd the cattle, clean the stables, and assist in milking. My daily routine was to get up at 5:00 each morning, milk the cows, sterilize the milk, and get it ready for delivery. I would then go to school.

The school was four to five miles from the farm, and I walked. This school was a one-room building and included all grades. I must have attended some type of school between the age of six and thirteen, but I don't remember. I was a good student. During the field preparation and harvest changes, I did the duties that were appropriate to get the job done. This was my life from my 13th to my 18th birthday. With one added attraction, I bought a motorcycle--a Harley Davidson 45. Mr. Steiger's farm was on hills; therefore, I purchased a motorcycle and used it to herd the animals. I might add that during this period on some weekends I would go to Harrisburg, Pennsylvania and hill climb and race the motorcycle. I competed in a big motorcycle race in Harrisburg, Pennsylvania. I never won, but it was always exciting.

After a few years, Mr. Steiger would take me on his milk delivery route and show me the procedures. Mr. Steiger did this because he wanted to go hunting for deer and bear. At last, I was allowed to deliver the milk to several homes on my own. An interesting event occurred one day. The horse was trained in the delivery of milk to each customer. The horse allowed a minute or two to deliver the milk at each house. The horse never wavered on the transaction. On my first delivery something happened. When I knocked on the door, a lady showed up (minus some clothes), and this fifteen-year-old boy was caught in a bind. If I pursued the lady…the horse would move on without me…you guessed it. I had to run and catch up with the milk wagon.
.

At age 18, I asked Mr. Steiger if he would act as my guardian and sign for me to join the United States Air Force. He agreed, and on February 12, 1930, I joined the Air Force.
I was 18.
Words of Wisdom

This is my first memory of school. Yes, I really did walk to school in the snow. I didn't mind the snow or the walk. I was thrilled to have the opportunity to learn. I greatly value education and learning.

Spend your life learning and applying your knowledge and you will never be bored. Education will open doors for you during your entire life.



I am on the right with the cigar.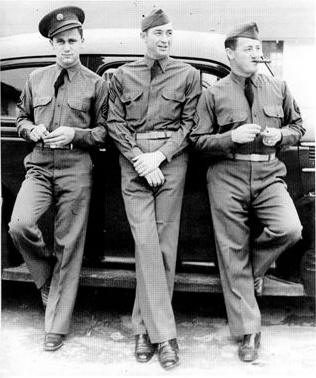 ---
Chapter Three

1930 – 1936
The Beginning of My Military Career

My first assignment was basic training in field artillery. After three months, I was transferred to Fort Knox, Kentucky as a member of the test squadron of the first tank unit. This unit was later part of many mechanized tanks units for the United States Army. If you would like to read more about my unit, turn to the Appendix B section and you will see a letter from my Commander about our work during this time.
From February 12, 1930 until January 12, 1933, I served in the mechanized unit and was discharged when my enlistment expired.
I then went to Louisville, Kentucky and started looking for a job. I started working in a Ford assembly line. After a month, I was promoted to foreman. However, after one more month, I reenlisted in the Army on January 13, 1933. I took a 90-day leave and started to work at the Ford place. About two weeks passed, and I was called into the foreman's office. He asked me if I was still in the Army. I said, "Yes". He said, "You cannot work here under these conditions." I had to leave the Ford company.
Since I had some free time and some money saved, I thought it was a good idea to hitchhike to Florida. I had two and half months before reporting for duty at Fort Knox. While hitchhiking, a car passed me, my thumb waving, and then the car stopped. The driver was a good-looking lady. She asked me where I was going. I told her it did not matter, and I told her it was about ten weeks before I had to report for duty. I showed her my identification. At this time, she moved to the passenger seat and said it's yours. The car was a blue Cadillac. Before I got in the car, I checked the engine for oil, etc. This seemed to impress her, and she said the gas was low….and I might add, my money was low. Her reply, "Don't worry about the money. That is my problem" So we headed to Florida. She asked about my plans again. I replied that I had none. She asked if I would be her chauffeur and companion. She said she would make sure I landed in Fort Knox on time. Since I didn't have clothes for parties or money for hotels, this lady took care of all our expenses. This was a very exciting time for this young man. When she left me at Fort Knox on time, her comment was, "Walter, I will never forget you." This was my sentiment, also. Oh, yes, she wanted to give me money, but I could not accept her gift, and I told her so. The date….April 13, 1933.


Things settled down at Fort Knox until I became sick with rheumatoid arthritis. I was sent to the Army and Navy Hospital in Hot Springs, Arkansas about May 5, 1935. My rheumatoid arthritis became worse on my right wrist and right hand. I was given a medical discharge on May 5, 1936.
The reason for the medical discharge was that I was part of a group pf young men assigned to the mechanized cavalry. I was unable to physically continue driving tanks, repairing, and performing tactical maneuvers, which required a lot of good physical activity.
In discussing my physical condition with a base surgeon, he recommended that I accept the pain and continue to use my hand and wrist, because if I didn't this would develop into a permanent physical disability. I did as the doctor recommended through out that part of my life. Also, at this time the government paid me $6.00 a month and raised it to $9.00 a month.
Words of Wisdom

When I was discharged from the tank outfit because of disabilities, I felt very discouraged; however, sometimes the bad breaks bring good surprises later. I was learning about life, and how to accept and make the best of all situations.
---
Chapter Four

1936 – 1939
Looking for Work and Finding the World

From May 5, 1936 until February 21, 1939, I lived through the most hectic time in my life.
I signed up for professional baseball umpire school in Hot Springs, Arkansas. When I graduated, I was given a job umpiring baseball games in the Louisianan League. This turned out to be some experience. In this league, the bleachers were close to home plate. The boos from the crowd were extremely loud. Also, each umpire had a partner umpire assigned to each game. After one game, my partner never showed up and I was the only umpire. This was tough. My support came because I was rooming with a sheriff in the area. This was real rough duty and one season was enough.
I left professional baseball and started looking for another job. I met a foreman of a pipeline crew. There was work available in the mountains and I told him if I could not do the job with my disability I would not ask for pay. The foreman agreed. This was HELL. The pain was terrible, but after two to three months I improved and started making a full day's pay.
I contacted a doctor in Pennsylvania and told him I had the money to pay him; however, if he could hold off I would like to use the money to go to the Wolverine School of Welding to learn welding as a trade. The doctor agreed, and I attended this school from August 1937 until I graduated on January 6, 1938.
At this time, I started looking for a job as a welder and found one that lasted five weeks. This job was on a pipeline. After the job on the pipeline was complete, I started again looking for work.
My next job involved making sure the beacon lights on the top of a mountain in New York were on. This required climbing the towers mounted on top of a mountain. This may not sound like very much but climbing a tower 75 to 100 feet high on top of a mountain while carrying light bulbs with the wind blowing in addition to trying to keep warm while you are hooked in with a safety belt was tough. If you did not return to the ground, you had it! An electronic monitoring system was later installed and the job was eliminated.
I was told of another job on a pipeline in Cheyenne, Wyoming. Here I go again, headed to Cheyenne. During the trip to Wyoming, I rode by boxcars and if I got hungry I would drop off of the train and look for some work so that I could get food. I would stay places where there was work for a few days and then I would be off again to Cheyenne. When I finally arrived in Cheyenne, I found that other people were waiting for the job. I was out of luck.
During this time, I became acquainted with a man and his pregnant wife. This man had a car and trailer attached. We traveled by day in the car and at night the man and his wife slept in the trailer, and I slept under the trailer. Some nights I did not get much sleep because of all the activity in the trailer. I traveled with this couple from Cheyenne to Florida. Along the way, we would stop and kill calves to eat. The sheriff knew this, but did not bother us. Both the man and I had little money for gas. We stopped at lights along the way and used the kerosene in the lights for fuel. The kerosene was on the side of the roads because this is what was used to light roads that were under construction.
I knew if we headed for Louisiana we could get a job in the rice fields. We arrived in Louisiana and all three of us got jobs handling bags of rice from dawn to dark at $5.00 a day.
When this job was done, we started for Panama dropping me off in Louisville, Kentucky. Before we left, we needed new tires. We came to a town with a football game going on and jacked up a car and traded the wheels. We also took the tag number and planned to compensate the other car owner and pay him back at a later time.
I was dropped off at Fort Knox, Kentucky and visited a few of the commanders I knew. After this visit they advised me that the 19th Ordinance at Fort Knox needed a welder. After much red tape, a physical, several welding tests, and the help of the commanders I previously mentioned, I was sworn in as a member of the United States Army for the third time.
Words of Wisdom

During this time in my life, I was moving around from job to job. I learned one big lesson: Find a job first and hold on to it until you find a better job. Without a job you don't eat, and I like to eat.
---
Chapter Five

1939-1942
Becoming An Officer and Maybe a Gentleman

From 1939 until 1942, I was assigned to work as a combination welder. This meant that I welded both electric and gas. I was the welding foreman for nine months. I was a 1st Sgt. in the 19th Ordinance and was then transferred to Barksdale Air Force Base in Louisiana, where I was part of the initial cadre sent to Savannah, Georgia as the welding shop foreman. I was then sent to Brisbane, Australia and awaited my assignment.
During the ocean voyage to Australia, the ship carrying our materials was sunk. The ship with personnel was camouflaged to appear like equipment. The equipment was camouflaged to appear like personnel. We were lucky…you bet.
We arrived in Brisbane with personnel intact, but material missing. I made friends with the Aussie on the deck and had a group of my men with paint enter our logo on the ship. In addition, the vehicle operator for my unit was on the deck waiting for each vehicle to be unloaded to our hidden park area. We supplied an entire material squadron with equipment. Oh, boy! I predict someone is still looking for us, the culprits that took the material. Now, our complete material squadron was ready to move.
The unit orders were to proceed to Charters Towers in the northern part of Australia as soon as possible. There was a problem. There were no roads where we needed to go. An airplane flight evaluated the best way to travel. This was some trip. Nobody knew that surfaces had about 10-12 inches of crust and all our heavy equipment bogged down in muck. It took twice as long as scheduled to make the trip.
Also, what was really bad, each heavy piece of equipment had to make its own route. Vehicles could not follow one another. Fresh food was obtained by hunting wild turkey, wild hogs, and snakes. I shot an emu. We thought we had adequate meat for us. Guess what? After rotating the emu for hours over the hot fire, we found that a sharp knife could not penetrate the emu. Later a young Aussie boy native to the area told us that only the rump of the emu was good to eat. This was some bird. We finally arrived in the most northern port in Australia.



We set up shop; however, the NIPS (enemy aircraft) blew it down. Again we set up shop. The enemy again tried to blow it down. Of course, we were in foxholes. Soon, we had air support. No more NIPS.
At this time, I took the examination for Officer's Candidate School conducted by the US Army. The whispering (rumors) was that they needed 2nd Lieutenants on the front lines. At the start of this school, all instructors had not arrived, and I was a lucky one with background of Range Sergeant, Drill Sergeant, and First Sergeant. I had a meeting with a Captain of the Army about my qualifications, and since they were short of instructors, we made a deal. The Captain said if I beat him on the range in pistol and rifle shooting, he would recommend and accept me as the Range Officer. No questions. I took all the honors in this situation and was advised that I would be Range and Drill Instructor for the program of Officer Candidates School. Lucky, you bet. I attended Officer Candidates School from November 15, 1942 - December 29, 1942.
During a weekend off, I became acquainted with the Colonel at the 81st Air Depot Group. I presented my qualifications to him and asked if it would be possible when I graduated from Officer Candidate School, if I could transfer back to the US Air Force in areas for which I was qualified. He knew my abilities, attitudes and dedication to duties. He said he would transfer me to the 81st Air Depot Squadron under his command. He said he could sure use me.
On my graduation, who should be at the ceremony, but said Colonel. After I had my 2nd Lieutenant bars pinned on, I was requested by name on the loud speaker to report to the OCS Commandant. I thought, "Oh, Boy! What did I do wrong?" On reporting to the Commandant, the Colonel said, "I have a Colonel, USAF, that would like to talk to you. I turned around and there was the Colonel. I snapped my heels, saluted as smart as I knew how, and reported to him. He said, "Lieutenant Cupp, here are your orders to report to the 81st Air Depot Group tomorrow. You will report to your friend, Major Shaw. He will give you your instructions. The Colonel then shook my hand and said, "Lieutenant, we really need your skills and attitude. Welcome aboard. The 81st Air Depot Group was located in Brisbane, Australia. I headed back to where I had started in Australia.

As an officer, I was given the job as Officer in Charge of the Major Repairs Unit in the Air Depot Unit. The unit consisted of the following: fully staffed departments, foundry, sheet metal, machine shops, welding and general assembly to all relating repairs of war equipment.
Again, I found a solution to help the morale of our troops on the local level and on the front lines. There was a beer company located in Brisbane. The beer company had trouble getting parts when their equipment broke. It would take them up to a month to get the needed part because it was wartime. I contacted the boss of the civilian operations at the beer company and suggested our people could manufacture any part they needed overnight. Then I asked what it would be worth to get these parts overnight. He said, "You keep us in business, and we will supply you with beer."

I called all of our supervisors together and asked their opinions. I told them that the beer would be supplied for the NCO and Officers Clubs and enough to send up north. They agreed to fix the parts regardless of the time of day or night the request was made. We had a plan and it worked. When a part in the brewery broke, the manager would bring me the needed part. I would contact my folks and within hours the part would be made.
I asked my commander if he would agree to the project. He said he did not want to know about it and added, "Cupp, do not get caught!"
The plan began and two days after the first repaired part was delivered, a truck loaded with beer arrived at my apartment. This beer was sufficient for all the local officers and NCO Clubs. In addition, I got acquainted with a full colonel from the front lines who would drop in with a bomber and he would load up with the beer for the front lines.
Words of Wisdom

A few of the things I did during this period of my life were against military procedure. I didn't get approval from my Commander, but I thought my plans were good ones. I thought the morale at the local officers club and on the front lines would improve with the shipments of beer I could provide. I took a chance, and it worked. My reputation for finding ways to make things work helped me to advance in the military. Sometimes in life, you need to take chances.

Officer Candidate School
November 1942
4th row up, 5th from the left - That's me.

---



Chapter Six

1943
New Guinea

Our assignment was to install four fifty-caliber guns in the nose of the bomber for firepower in the enemy war zone. This was one of the projects that helped win the war. We also attempted to install two machine guns in the nose of this bomber; however, this plan was cancelled due to the bad damage. Mounting the four fifty-caliber guns to the nose of the bombers was continued. The Air Depot Group was preparing to move to Finchavien, New Guinea. We moved in August of 1944.

Before moving to New Guinea, the colonel flying the bomber took me as a co-pilot and flew to New Guinea at our proposed site of the Air Depot group. While flying, the Colonel had to go to the restroom, and told me how to fly the aircraft. Since I had never flown an aircraft before, needless to say, I could not maintain a level flight. It must not have been too bad. The Colonel did what he had to do, and returned in time to level off the fight without any problems.
After arriving in New Guinea, I obtained a fifty-foot boat and put some of my men in charge of operating the boat. The boat was hidden in a cove. This crew was assigned to catch fish. We swapped with the Navy vessels that landed in our post. We gave them fish. They gave us fresh food.
Now for the incident that arose that I will never forget. My men were in the chow line. I observed a Japanese soldier dressed and armed with guns and hand grenades walking toward the chow line. I immediately cautioned my men to be calm, and I approached the Japanese soldier and motioned to my stomach and mouth to determine if he was hungry. He motioned, "Yes". I immediately sent a couple of my men for food for the Japanese.
At the same time I approached the Japanese soldier and unbuckled my guns and motioned for him to do like wise. This he did without any delay. The food appeared, and boy was he hungry. Then I also sent my men to the get the Military Police (MPs). They were trained to handle such situations. While the Japanese soldier was eating, I used hand motions to find out if there were more Japanese in the woods. He said, "Yes". I motioned for him to call them, and we would feed them. He did this.
In the meantime, the MPs arrived. They were very nervous, and I explained what had happened. Then more Japanese soldiers were coming out hungry, and more food was required. This was done as two more Japanese soldiers showed up, and the original Japanese helped us to disarm these soldiers before we fed them. The MPs then took over for security.
At this time, I became sick and was sent home in February 1945. The rheumatoid arthritis got the best of me due to overwork and not much sleep and the tropical weather. I stayed in the hospital until May 1945. I was then assigned to a supply group at Memphis, Tennessee.
Words of Wisdom

The procedures I used in the situation with the Japanese soldier were not the ones described in the military manuals. Later the Officer- in-Charge of the Military Police commended me on my actions. Sometimes the regular procedures don't fit the situation. At times like these, you must just make it work.



---
Chapter Seven

1944 - 1969
Eva Mae Smith Cupp

A highlight of my life was when I married in Florida a lovely lady named Eva Mae Smith who honored me with two precious daughters who have made a beautiful contribution to my life. Our marriage occurred on December 23, 1944.
(Note from Cindy: My mother, Eva, often told the story of how Daddy proposed. Momma said that Daddy was dating quite a few ladies when they were dating. One day, he called her and asked her to marry him. She started laughing and did not take him seriously. Daddy was still trying to convince her he was serious, when he said, "I am going to send a dozen roses to the one I love best." Momma said at that moment the doorbell rang, and sure enough there was a man at the door delivering a dozen roses.)
I met Eva after I had become acquainted with her brother, Buck Smith from Glennville, Georgia. Buck operated a welding shop, and since I was also a welder, we became friends. Buck's family operated a motel in Glennville and that is how I met Eva Mae Smith. After Eva and I married on December 23, 1944, the doctors told us that we would not be able to have children. They were wrong. Our first child was a daughter, Virginia Irene Cupp born March 1948, and our second child was another daughter, Cynthia Mae Cupp born February 7, 1949.
When the girls were very young, I was gone quite a bit because of my job. I retired from the Air Force and got a job with Civil Service at Hunter Air Force Base as a Ground Safety Engineer. We bought our first home in 1955 at 127 Chippewa Drive. That was 48 years ago. I haven't moved since. I guess I was just lucky to find the right house the first time.

I was assigned as the Safety Engineer at Hunter Air Force Base. My primary duties were as follows:
1. Evaluate the entire base for accident potential and work with supervisors to make any corrections necessary.
2. Report and investigate all accidents that occur both on and off base involving military personnel and base equipment.
3. When necessary, make special reports concerning accidents to the base Commander.
4. Be on call seven days a week, twenty-four hours a day.
I also taught Driver's Education classes for the Savannah Police Department in the city of Savannah. My students had received some type of vehicular ticket. Every now and then I will run in to one of my former students and they will say, "Aren't you the man that taught me Driver's Ed forty years ago?" I liked teaching and I liked speaking to groups about safety.

When the girls were old enough, I rented a boat and taught them how to ski. I also taught them how to drive. Ginger learned pretty quickly, but now Cindy was another story. I finally gave up trying to teach her to shift gears in an old English Ford. She kept tearing up the transmission. I made a practice track around the house, and they would drive around and around. Both finally did learn to drive.

I also thought it was important for girls to know how to change tires, so I would make them rotate all the tires on their cars. They also learned how to change the oil and a flat tire.

I managed to convince the girls and their dates that I could tell how fast they drove by the length of the splatter of bugs on their windshield. Cindy told me that her dates started carrying their own bottle of Windex in order to clean the windshields before they arrived at the house.
In 1967, we received notice that the girls' education would be paid for through War Orphans' benefits. My war related disabilities allowed me to apply for this educational benefit. We had been saving for their college expenses, but after receiving the benefits we decided to allow them to purchase cars. They headed off one morning in an old hand painted red Rambler to Reidsville, Georgia where their uncle Ward Waters worked for a Chevrolet dealership. They picked out two Camaros and wanted to drive them home. Ward called from the dealership and asked if he could let them drive them out. I said, "Fine." What a day to see my daughters driving up in their new cars. I was a proud father.
In January of 1969 Eva Mae died of a heart attack. We had been married for twenty-five years. Ginger was living at home going to Armstrong College and Cindy was attending Georgia State University in Atlanta.
I was completely retired by this time, and spent my time working around the house and helping the neighbors. My yard was always in top shape.


---

Chapter Eight

1970-1983
Janie Mercer Robbins Cupp

I had a blind date and we doubled with another couple. That is how I met Janie Mercer Robbins. She was the date of the other man. We had dessert at her house after dinner. I intentionally left my pipe in her sofa, and the next day I called to find my missing pipe. Janie and I started dating.

We didn't have a wedding. We eloped. We called the kids and told them we were married.
Janie and I had fun. We traveled to Florida and North Carolina and played bingo and went to the dog races. Janie liked to travel to Europe and all over the United States, but I could not go because of vertigo. She would take trips, and I would work on the house while she was gone. I liked to surprise her when she would come home and see the projects I had completed.


Janie had one son, James Dean Robbins. He was attending school at Georgia Southern when we married. All our kids were in their early twenties when I married Janie.
Janie loved to cook and I loved to eat. She would have me in the kitchen cutting onions, nuts or whatever else she needed cutting. I got pretty good at cooking on a grill, or at least that is what I thought.
In 1981, Janie became ill. We could not find out why she was ill. She was finally diagnosed with cancer. The kids helped, and Jimmy's friend, Ann Bowen, was always nearby to assist. Janie died in December 1983.

---

Chapter Nine

1984 →
Ninety and Still Going

As I write this autobiography, I look back over the years and reminisce about what a wonderful life I have had. I have two daughters, a wonderful stepson, three grandsons, a daughter-in-law and son-in-law, an "adopted" daughter and granddaughter, and many wonderful friends and neighbors.
I am writing this book from January through March of 2003. In December of last year, I was pretty sick with heart problems, and I am now working to get back on my feet. I have enjoyed putting this book together. It's hard to believe 90 years can go by so quickly. It seems like yesterday when the girls were little.
Ginger and Cindy often remind me of a few of the stories they like to tell about me. I promised to include them, so here goes.
I traveled a bit playing bingo when I was in my sixties and seventies. I got to know quite a few folks and enjoyed seeing them during the games. I would travel to Cherokee, North Carolina to play the big games. When I played bingo, I took it real seriously. I didn't mind if someone wanted to go with me, but I didn't want to talk during the games, because I would play twelve cards at the same time. When I won, you could hear me yell "BINGO" all over the building.
Over the years, I have had surgery quite a few times. When I was in my seventies and again in my eighties, I told Ginger and Cindy that I was going on a trip to play bingo, and instead I drove myself to the hospital and checked in and had the necessary operation. Of course they always found out about the surgery. I just didn't see any need to worry them. I told the doctor how to reach them in case things didn't turn out ok.
On my eighty-fifth birthday the kids had a surprise party for me at Ginger's. When I walked in I couldn't believe it. Everyone I knew was there. It was funny seeing all the folks from Glennville and Reidsville getting to meet all the people they had heard so much about from Savannah.

The girls also would fuss at me because I would climb on the roof to clean off the leaves. They didn't think their 86-year-old father should be on the roof.
I was on the roof one time for another reason. I thought the neighbors down the street were doing something illegal. I got a camera and sat on the roof, and sure enough I took pictures of the neighbors dealing drugs. My neighbor knew someone in the Georgia Bureau of Investigation. She helped me contact the GBI, and we convinced them to bust up the drug ring.

When I was 87, Savannah was evacuated because of the threat of a hurricane. My dear friend, Doris Rosser, and I left Savannah heading for Reidsville, Georgia around 9:00 am. Ginger gave me her cell phone, but I didn't need it, so I turned it off. It took me almost ten hours to get to the Metter exit off of I-16. It usually takes about an hour to get to this exit. It seems that everyone thought I was lost. Cindy was in Atlanta calling the State Patrol. Ginger was sitting at McDonald's at the Metter exit most of the day waiting for me. When we left the expressway with Ginger driving, all the cars still on I-16 looked like a parade of ants with lights. We stayed with Carolyn and Byron Lynn for five days and had a great time. True Southern hospitality.
I guess the only thing in my life that I haven't told about is our annual Christmas Party tradition. I don't invite company over to my house except once a year at Christmas. We have a dinner and open presents. The Hallocks, Ann, Bob and Eliza, have been adopted by our family and always come. Jimmy and his lovely wife, Van, are there too. Van is a great cook and drops dinner by for me often. Jimmy has been great to help me keep my yard in the tiptop shape I like to see it. Doris Rosser is always invited. Of course, Ginger and Cindy and my grandsons Walt, Tim, and Jeff are there. Cindy's husband, Steve, is the new addition to our family. He has been a big help to me since I've been ill. There is nothing more enjoyable than the gathering of friends and family. Wow! A good time is had by all.
I guess that's about it. I've written about my life from 1912-2003. I'm 90 now and still going………….
---
Letters
From Friends and Family
---
From My Son, James Dean Robbins
Major Walter Cupp came into my life during the late 60s early 70s. I was in undergrad school trying to be a pseudo hippie. My mother had met this wonderful, kind man and was later to marry him. Walter and I quickly sized each other up, the long haired radical kid, and the very responsible conservative retired military officer.
Walter was promoting the ideas of conventional wisdom, I was beating a different drum. While Walter did not beat that drum with me, he allowed me to do and still accepted me into his life with open arms and a generous heart, long hair and scruffy beard included. This kind, loving man won my heart immediately.
I picked neither my childhoold father, James D. Robbins, nor my father in adulthood, Major Walter Cupp. But I thank God for the perfect choices he made for me. My childhood dad died in a car crash when I was seventeen. My adulthood father Walter is and has been not only my mother's wonderful husband, but my dad and friend for over thirty years. For this I am deeply honored and appreciative.
Jimmy Robbins
---
From My "Adopted" Daughter, Ann B. Hallock
Cindy and Ginger asked me to write a letter for inclusion in your book.
I am honored to do so.
For readers who wonder who I am, I met Walter and Janie in early 1980 and enjoyed their friendship as a couple until Janie's death in December 1983. Since then, I have been privileged to be an "adopted daughter", as Walter would say. I have not only continued to enjoy his friendship and company, but I have also had the fortune to grow closer to Ginger and Cindy. Together we have been through marriages, a divorce or three, a birth, graduations and a near miss, illnesses, injuries such as broken ankles, and even deaths. All through these predictable life events, the Cupp family has been my Savannah family. I thank you Walter for making that possible.
A word now Walter to you—What a man! Janie touted your gentleness and affection as a husband. Cindy and Ginger cherish your ability to be a loving father through the good and bad times. Your grandchildren and Eliza have always known they could count on a great Christmas party with plenty of decoration, not the least was the wall of musical bells! As for Bob, Eliza and me, we just feel blessed to know you and to have been loved by you all through the years.
You have the rare ability to enjoy the good times with us all but to have "no opinion" when times are messy. You have stood by us all; children, grandchildren, in-laws, and friends. You have made the last 23 years of my life more colorful, educational, and fun. Thank you for being you these 90 years and for letting all of us be ourselves. Thank you for all of the memories you are now sharing with us through this book and oh, I almost forgot, for the fun BINGO nights and the winnings! UNFORGETTABLE…as you are!
Love,
Ann
---
From My Niece, Lynda Smith Howard
Dear Uncle Cupp,
I can't remember when I first met you….you have ALWAYS been "there" with your deep boisterous voice giving out orders and keeping everybody in line. I have always loved the way you are soooo organized and efficient and expect the same from everyone else. I feel so fortunate to have lived with you for a year during my "in and out" of college days. I quit college after my first quarter at ABAC in Tifton. When I decided to attend Business School in Savannah and live in an apartment with a girlfriend, Daddy said I had to live with you and Aunt Eva Mae. At the time, I was very disappointed…as it turned out, it was the best move I ever made. I lived with you for a year, went to business school and worked at Hunter. You were very patient and tolerant of me during that year. You always treated me like an adult and you had such high expectations of me as you did all of the young adults in your care. You had a great influence on me going back to college. I can't imagine what my life would have been like without my education, as I really love teaching.
I have so many neat memories of you. You have always been such an unselfish person, always ready to give of your time and resources whenever anyone was in need. It seems like there were dozens of your veteran friends who were always coming by in need of legal help and advice. You didn't just advise them but you made phone calls, wrote letters, and did whatever was necessary for them to get the benefits they were entitled to. You were so knowledgeable about the rules and regulations. What you didn't know, you would search for. This was before computers…boy, you would have been something with a computer!
You were such a gentleman. Remember how you would sometimes wake me in the mornings? You would get a fishing pole and stick it through the bedroom door and tug on my covers, because it was not proper for you to come into my bedroom. I also remember how you would measure the bug smears on my windshield to determine how fast I had been driving. You were really pulling my leg, weren't you?
You are my favorite uncle…..I love you and appreciate all you have done for me.

Love,
Lynda
---

From two very special neighbors and life long friends, Ray and Mary Gail Pandtle.
This story takes place more than forty years ago.
March 12, 2003
Dear Mr. Cupp,
We would like to add this story to your book. I am the writer, but Ray was the consultant.
The Cupp girls and I were like sisters growing up, so naturally I spent more hours than I can count in their home. The thing that I remember most about Mr. Cupp during the hours I spent there is his laugh. His laugh seemed to originate in the depth of his soul and grew in space and volume until it filled the entire house. I remember how I loved that laugh. But one afternoon I saw a different side of Mr. Cupp--------he definitely wasn't laughing.
He was angry with my brother Ray, who I think was about 10 or 11 years old at the time. Ray was across the street from the Cupp home and Ginger, Cindy and I were in the Cupp's driveway. I don't remember how the altercation started (I think we started it), but I do remember that the three of us were taunting my brother. In defense, Ray began throwing rocks at us, and as girls often do------we ran tattling to Mr. Cupp. Mr. Cupp came outside to defend his little darlings.
Well, my brother's temper got the best of him, and he began sassing Mr. Cupp. Now Mr. Cupp was a military man, so you can just imagine how mad this made him. Ray took off running toward our house with Mr. Cupp close on Ray's heels. Ray took a short cut through the Gunter's yard to our back door and was able to slam and lock our back door just before Mr. Cupp turned the door handle.
When Mr. Cupp looked up, Ray was looking out the glass door at him with his tongue sticking out, thumbing his ears at him and chanting na na na na na na. Mr. Cupp was furious! Mrs. Gunter, our neighbor who witnessed the chase, told my mother that it was the funniest thing she had ever seen. She also shared her opinion that she was sure that if our back door had been locked, Ray would have had to change his pants.

Love and Best Wishes,
Mary Gail Pandtle Wolf
---

From my nephew, Wendell Waters
Dear Cupp,
Congratulations on your book! Looking forward to the completion! I deem it an honor to have the opportunity to reflect upon "our lives" as I perceive it.
Starting in my "teen" years, when I found out that Aunt Eva had married a "Damn Yankee", that just happened to be a "Military Stiff". I could hardly believe that she could do such a "crazy thing"!! And before long, they would move "way-out" to Texas! Unbelievable! Lost my favorite Aunt!! Huh!
Little did I know that our lives would "entwine" in the future - 1951- and that I would be in your household "way out" in Texas and also be stationed on "your military base", called Lackland AFB, Tex.
From the moment I arrived to begin my "military stint", you were there to save my "ass"! As Base Safety Officer, Major Cupp became my "Savior" and my "Uncle". So many times you took me away from the rigors of "bootcamp" and took me into your home! Wonderful memories!! Thanks!! Some moment in time, in Texas, you and Eva produced, probably, your greatest achievement! Two times, Ginger and Cindy. I've loved them from first sight!!
Here, in the year 2003 I'm 71! You're past 90! It's wonderful to have this opportunity to tell you I have much love and respect for you. I'm proud to have had a "Damn Yankee" for an uncle. And in closing, reflecting back, I think you can be proud of your life as military, as husband, as father and a fine person. You did well!! As I see it!!!!
Respectfully, lovingly,
Wendell
---
From my niece and her husband, Carolyn and Byron Lynn and a note from their son, Steve.
March 16, 2003
Dear Cupp,
Just a note to let you know that you will really enjoy reading your new book and reminisce about the good old days.

One of your many accomplishments is having raised two wonderful girls, Cindy and Ginger.

Another thing for sure, they threw away the mold when you were made because you are one of a kind! Take care. We love you!
Carolyn and Byron
---
Dear Cupp,

Just a note to tell you that I think you are a very special person. I have been privileged to know you.

My first memories of you are of sitting next to your chair and watching baseball on TV. You were neat then, and you still are.
Always,
Steve Lynn, DVM

---
Major Walter E. Cupp
August 16, 1912 – March 22, 2003
Major Walter E. Cupp wrote his autobiography from January 1, 2003 until he completed his book on Wednesday, March 19, 2003. He died three days later on Saturday, March 22, 2003.
Walter Cupp, family, or friends wrote all preceding pages of this book before his death. His grandson, Jeff Douglass, and his daughters, Ginger Douglass and Cindy Cupp, wrote the following two pages. The following two pages and the letter from his son, Jim Robbins were read at his Memorial Service on Monday, March 24, 2003.
At Major Cupp's request, his body was donated to the Medical College of Georgia.
ENDNOTE
"We make a living by what we get but we make a life by what we give."
-Winston Churchill
---
Tim Douglass, Jeff Douglass, Walt Freeman and Walter Cupp


On behalf of my brother, Tim, and my cousin, Walt, I would like to thank all of you for your support, thoughts and prayers. Although Grandpa would likely be irritated if he knew that we were causing such a commotion over him, we were all drawn here today to pay our respects to a man that has touched all of us so deeply. While Grandpa's uniqueness and individuality resist definition, I have always felt that his most prominent and admirable trait was his endless generosity. From mowing the lawns of his neighbors to hosting his annual Christmas party, Grandpa was always happiest when he was making those around him happy. Throughout his 90 years, we have all experienced Grandpa's giving and his compassion for his family and friends in one way or another. Today, as we gather to reflect on the ways that this extraordinary man has inspired us all, it is my hope that we will always cherish these fond memories of Grandpa. While he may have passed on, embracing these memories will ensure that Grandpa's spirit will live on forever.

-Jeff Douglass

---
Cindy Cupp, Walter Cupp, and Ginger Douglass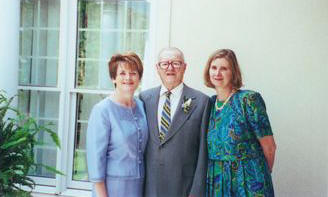 March 24, 2003
From your daughters, Ginger and Cindy
Dear Daddy,
You are our hero, the wind beneath our wings.
You have given freely of yourself to us for our entire lives.
Your caring ways, kind spirit, and love will always be with us.
The way you have lived your life will always be an inspiration to everyone that has known you and for future generations that will read about your life.
May God and all the angels welcome you. We miss you, but know you are home.
Love forever,
Ginger and Cindy

---

Documents
Important to Walter Cupp
---
---
---
---
© 2003 Cupp Publishers, Inc. All Rights Reserved.